GeoAnalysi S.A. was established in 1988. GeoAnalysi S.A. is a leader company in the field of engineering studies and consulting services, being very keen on investments in innovative and high technology.
The company's headquarters are in privately owned multi storey building in the area of Kalamaria, Thessaloniki. As it has had a rapid development, it has founded three more regional offices, in Athens, Kozani and Xanthi.
The management of the company, realizing its responsibility towards the community, supports the society by offering it in the following ways:
supporting voluntary groups such as the Hellenic group, which has been supporting them for over a decade through publishing the poetry collections of incarcerated minors and women in the prison at Diabata
supporting NGO, such as Doctors Without Borders and Orphanage "Melissa"
support for the voluntary actions of its employees, such as voluntary blood donation to a blood donation bank at the Ippokrateio Hospital of Thessaloniki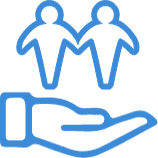 Public Sector | Private Sector
National Cadastre & Mapping Agency S.A.
Hellenic Republic Ministry of Rural Development & Food
Ministry for Environment, Physical Planning & Public Works
Ministry of Environment & Climate Change
Ministry of Culture & Turism
National Cadastre & Mapping Agency S.A.
Hellenic Republic Ministry of Rural Development & Food
Ministry for Environment, Physical Planning & Public Works
Ministry of Environment & Climate Change
Ministry of Culture & Turism